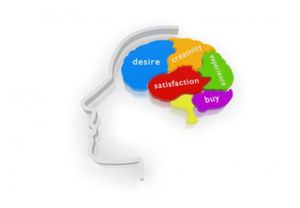 In the highly-competitive, multi-million dollar advertising industry, science is increasingly becoming an important tool in determining exactly what kinds of marketing campaigns and products appeal to a potential consumer - so much so that there is an emerging field dedicated solely to getting inside our brains to figure out what we really want.
This hybrid of science and advertising is known as
neuromarketing
, and
according to Alex Hannaford of The Telegraph
,
it has actually been around for more than two decades.
Experts, such as Steve Sands of El Paso, Texas, use electroencephalography (EEG), functional magnetic resonance imaging (fMRI) and eye-tracking technology to help measure biological changes experienced by a person in response to marketing-related stimuli, he explained. The technology measures an individual's brain signals, changes in blood flow and other physiological reactions to determine what really interests people on a subconscious level.
Sands uses his equipment to monitor people's reactions to a test-screening of Super Bowl commercials each year. He recruits approximately 30 people, has them don eye-tracking glasses and hooks them up to an EEG machine to monitor their brain waves as they watch the ads scheduled to air during the most expensive time slots in the advertising industry, Hannaford said.
One of the most successful ad campaigns, from a neuromarketing standpoint, was 2011's Volkswagen Passat commercial that featured a child in a Darth Vader costume attempting to "
use the Force
" on various household objects (as well as the family dog). According to Sands, the popular ad has the highest "neuro-engagement score" ever recorded, and perhaps unsurprisingly was named the year's best commercial by Adweek.
"The man behind the advert was Deutsch LA's Doug Van Praet," the Telegraph reported. "He says Sands's research demonstrated that The Force ad had an inordinate capacity to engage the brain. 'It galvanized our attention, our engagement and our emotion, and it turned out to be a very powerful predictor of end-market performance.
"Amazingly, it's taken big business 20-plus years to realize how effective neuromarketing can be. British psychologist Dr David Lewis-Hodgson founded one of the earliest firms,
Mindlab International
, in the UK in 1988," Hannaford added. "Van Praet acknowledges that neuromarketing is not without its pitfalls; that in studying the human brain, we have to be comfortable with paradox and contradictions. For example, he says you can like an ad and it can create a positive emotion, but if it doesn't leave you with an appropriate and corresponding set of associations and emotions for that product, it's no use to the company trying to sell it."
Like Sands, Diana Lucaci is attempting to capitalize on the neuromarketing phenomenon. Lucaci is the founder of
True Impact Marketing
, which
Lilian Sue of Business 2 Community claims
is the first and only Canadian neuromarketing research firm to use both EEF and fMRI to analyze the brains of consumers.
"Using both these technologies, the company measures three key metrics: engagement, attention, and memory. The company also measures levels of positive and negative emotion as well because businesses want to know if its brand elicits a particular emotional response, if it's positive or negative at a particular point in time," Sue said.
While Lucaci's efforts mark "the beginning of neuromarketing in Canada," Sue explains the industry is "growing" both throughout the nation and all around the world. In fact, she said the Neuromarketing Science and Business Association (
NMSBA
) reports there are now over 75 companies doing neuromarketing research globally.