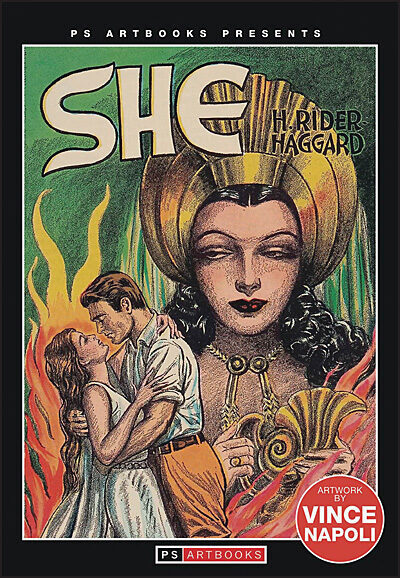 "If this don't fetch the kids, why, they have gone rotten since my day."
— Robert Louis Stevenson, while writing 'Treasure Island'
In 1887, H. Rider Haggard wrote a novel called
She
.
She
was an adventure into deepest Africa to rediscover a lost civilization dominated by a mysterious white goddess. The novel was an immediate success and a phenomenon at all levels of society. Freud and Jung referenced it in their psychoanalytic theories. Authors such as Rudyard Kipling, J.R.R. Tolkien, Graham Greene, and Henry Miller have acknowledged its influence on their own writing. The novel even developed many of the 'lost world' tropes that underlie the works of Edgar Rice Burroughs, Arthur Conan Doyle, H.P. Lovecraft, Robert Howard, and Abraham Merritt. Everyone, in other words, read
She
. Yet Haggard said he wrote it for boys.
Haggard isn't the only writer who wrote similar boys' adventure stories. Robert Louis Stevenson's
Treasure Island
tells the story of young Jim Hawkins, and Dick Shelton, the hero of
The Black Arrow
, is "not yet eighteen." Stevenson, after being struck from the canon by Virginia Woolf and the Bloomsbury Group, has enjoyed a minor resurgence among academics prompted by Roger Lancelyn Green, one of the Inklings, who also wrote for boys. And, of course, many of those who I mentioned admiring Haggard also admired Stevenson and wrote boys' adventure fiction of their own. I would also be remiss not to mention the
Hornblower
series by C. S. Forrester,
Lost Horizon
by James Hilton, and the works of Harold Lamb, Jack London, Daniel Dafoe, Erskin Childers, Anthony Hope, and Rafael Sabatini.
But the boys' adventure novel - that is, stories written to boys "not yet eighteen" and set in exotic, but still broadly historical locales, with perhaps some light fantasy or romantic elements - is something of a dead letter these days.
The Young Adult field today is far more focused on the fantasy elements and on stories written to a much broader audience to the degree that the two become easily distinguishable. Perhaps the last culturally relevant example of boys' adventure is Bernard Cornwell's
Sharpe
series, debuting in 1981. The series sold very well, but it's the exception that proves the rule. If you mention Alan Quartermain today, you'll be lucky if someone remembers Sean Connery's character from the 2003 film
The League of Extraordinary Gentlemen
.
The League
opened alongside
Pirates of the Caribbean
, partly an homage to Stevenson's
Treasure Island
and itself the last great boys' adventure film.
For twenty years that well has been dry as a bone.