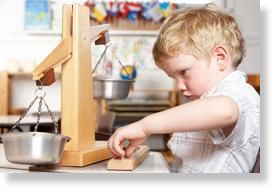 Preschool children spontaneously invent experiments in their play, according to research published this month in
Cognition
. The findings suggest that basic scientific principles help very young brains to learn about the world.
Psychologists have been drawing a comparison between cognitive development and science for years -- an idea referred to as 'the child as scientist'. But recently scientists have been trying to discover whether this is more than just a neat analogy.
In the latest study, researchers at the Massachusetts Institute of Technology (MIT) in Cambridge and Stanford University in California presented four- to five-year-old children with a specially designed toy that lit up and played music when the child placed certain beads on it.
In cases in which the children didn't know which beads made the toy play, the researchers found that the kids tested each possibility in turn in order to find out -- much like the way in which scientists devise their experiments to test individual variables separately. Laura Schulz, one of the researchers from MIT, explains that it's the same idea that you use when trying to find out which of your keys opens a door: "You might change the position of the key, you might change the key, but you're not going to change both at once," she says.