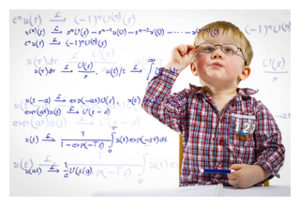 It's 2019. Prenatal genetic tests are being used to help parents select from healthy and diseased eggs.
Genetic risk profiles are being created for a range of common diseases. And embryonic gene editing has moved into the clinic.
The science community is nearly unanimous on the question of whether we should be consulting our genomes as early as possible to create healthy offspring. If you can predict it, let's prevent it, and the sooner, the better.
When it comes to care of our babies, kids, and future generations, we are doing things today that we never even dreamed would be possible. But one area that remains murky is the long fraught question of IQ, and whether to use DNA science to tell us something about it.
There are big issues with IQ genetics that should be considered before parents and educators adopt DNA IQ predictions.
IQ tests have been around for over a century. They've been used by doctors, teachers, government officials, and a whole host of institutions as a proxy for intelligence, especially in youth. At times in history, test results have been used to determine whether to allow a person to procreate, remain a part of society, or merely stay alive. These abuses seem to be a distant part of our past, and IQ tests have since garnered their fair share of controversy for exhibiting racial and cultural biases. But they continue to be used across society. Indeed, much of the literature aimed at expecting parents justifies its recommendations (
more omegas, less formula,
etc.) based on
promises
of raising a baby's IQ.
This is the power of IQ testing sans DNA science. Until recently, the two were separate entities, with IQ tests indicating a coefficient created from individual responses to written questions and genetic tests indicating some disease susceptibility based on a sequence of one's DNA. Yet in recent years, scientists have begun to unlock the secrets of inherited aspects of intelligence with genetic analyses that scan millions of points of variation in DNA. Both bench scientists and direct-to-consumer companies have used these new technologies to find variants associated with exceptional IQ scores. There are
a number of tests
on the open market that parents and educators can use at will. These tests purport to reveal whether a child is inherently predisposed to be intelligent, and some suggest ways to track them for success.