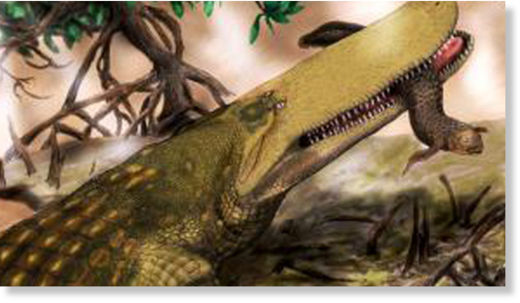 The oldest known species of crocodile had an armor-plated head and a body half the length of a subway car, according to research released Tuesday by US scientists who identified the now-extinct creature.
Nicknamed "Shieldcroc" for its impressive head plate, the aquatic reptile swam in the waters of Africa some 95 million years ago and is the newest discovery of an ancient crocodile species, said the study in the journal
PLoS ONE
.
University of Missouri anatomy professor Casey Holliday identified the croc,
Aegisuchus witmeri
, by studying a fossilized partial skull specimen that was first discovered in Morocco.
The croc's shield was likely used as a way to intimidate foes, attract mates and even control its head temperature, researchers said. Its head was considerably flatter than other known species of crocodile.