While researchers in northern Colorado dig up the bones of giant Ice Age mammoths (
see gallery
), others nearby in southeastern Utah are looking at a very different record of these extinct creatures.
High on a cliff overlooking the floodplain of the San Juan River, rock art specialists Ekkehart Malotki and Henry Wallace have examined several highly stylized images carved into the rock face including what they believe to be the first example of prehistoric Native American rock art to show a mammoth. While such images are common in the caves of Europe, they are surprisingly unknown in the New World.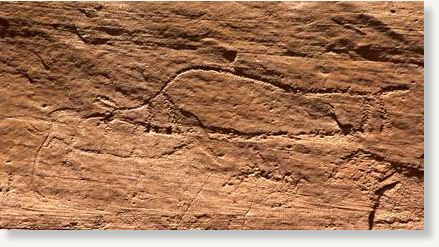 To be sure, many other American mammoth images have surfaced in the past two centuries, but until recently all had either disappeared or been shown to be forgeries. In 2009 however a bone from Vero Beach, Florida surfaced with a detailed engraving of a mammoth, and several tests and expert opinions have so far supported its authenticity. Here too though, further tests are needed before a final verdict is reached. (
Read more about the Vero Beach mammoth.
)
Well aware of this history of promise and disappointment, Malotki and Wallace set out to verify this most recent find.