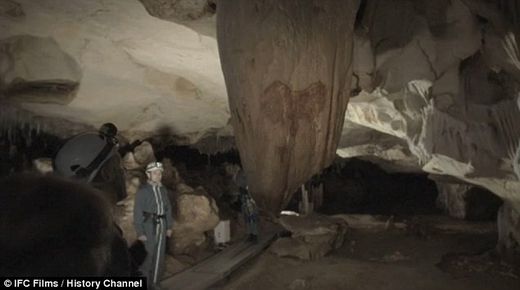 Covered in ancient dots and lines, it's thought to be where man made his first attempts to write.
Since its (re)discovery in 1994, the Chauvet-Pont-d'Arc Cave in southern France has offered scientists a veritable treasure trove of perfectly preserved paintings.
Alongside these are and evidence of attempts at communication 30,000 to 40,000 years ago.
Now the long-abandoned underground enclosure is the subject of a 3D documentary by German filmmaker Werner Herzog, called Cave Of Forgotten Dreams.
Among the riches on offer is a chamber full of painted monsters 400metres below the surface, where a mixture of carbon dioxide and radon gas leads to hallucinations.
It is here that the paintings start to become a strange, so strange in fact that scientists think heading down to the chamber may have formed part of a ritual for prehistoric man.
Alongside the paintings lie drawings of dots and lines that had previously been dismissed as little more than doodles.