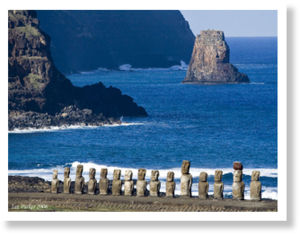 My cup runneth over. Thirty three years ago I had the great good fortune to visit Easter Island, and now I have come back from an almost unimaginable (and undeserved) second visit to the loneliest world ever settled by man. Let me first present my thoughts written at that now remote time, complete with what I now know were prevailing errors and blindnesses about the future. What errors and blindnesses will I write into my account of this second journey?
Easter Island, August, 1971
I have just returned from Easter Island! It was not easy to get there, for seats in the weekly airplane from Santiago, Chile, to Easter Island and Tahiti, with connections to Australia, were jammed for weeks with Chilean Germans fleeing from Salvador Allende's Marxist-Leninist "Revolution." The revolutionaries and most of the news-following world think of Allende's Chile as the scene of a class struggle and of a rebellion against North American imperialism. But these Germans felt it as ethnic revenge, as Hispanic Chilean reassertion against these Chilean Germans and an appropriation of the wealth the latter had created and amassed. They had seen their businesses struck, harassed and seized, their homes broken into and looted with impunity by leftist Hispanic thugs and leftist Hispanic police. They all had tales of friends and relatives who'd been murdered. They were terrified and they were fleeing while they had the chance.
This was my unexpectedly political introduction to Easter Island, for I was getting off the plane there, not fleeing from Allende to Australia. We don't think of Easter Island in connection with politics, but it is now overwhelmed by the political storm. The Easter Islanders had been carried off into slavery and almost exterminated by Peruvian slavers in 1862. Their missionary priest and presently the Chilean and French Catholic hierarchies had effected their return later in the 1860s, a shattered remnant dying of smallpox. A succession of priests of the island, at first French but culminating in the great, scholarly and saintly Bavarian Capuchin, Father Sebastian Englert, who had served his flock from 1935 till his death less than two years ago, backed by the Catholic Church as a whole, had restored the Easter Island population from about 200 to 1600 today (over 4,000 before 1862), enjoying a Spartan but decent life. Grateful, the Easter Islanders always voted overwhelmingly Christian Democratic. To the various Marxist-Leninist groups in Allende's chaotic coalition (in which the actual Communist Party, on Moscow's orders, is paradoxically the most moderate element!) the Easter Islanders are therefore counterrevolutionary traitors in league with the North American C.I.A. To the resurgent Hispanic Chilean majority, they're Injuns, alien savages.