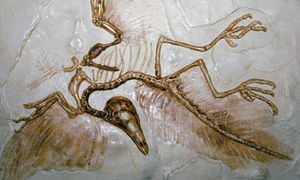 A new study claims to re-establish the status of Archaeopteryx as the earliest bird - and not just another bird-like dinosaur
For 150 years the creature occupied top spot on the avian evolutionary tree until this summer when the discovery of a close relative suggested it was a mere bird-like dinosaur. Now it looks to have regained its previous perch thanks to a more sophisticated anatomical analysis.
"This shows that when you look at the data with a higher degree of analytical rigour it supports the traditional view that
Archaeopteryx
is a bird," said Dr Paul Barrett, a dinosaur researcher at London's Natural History Museum.
The first complete specimen of
Archaeopteryx
was discovered in Germany in 1861, two years after the publication of Charles Darwin's
On the Origin of Species
.
It lived around 150 million years ago, had sharp teeth, three fingers with claws, a long bony tail, feathers, broad wings, could grow to about 0.5 metres in length and could fly.