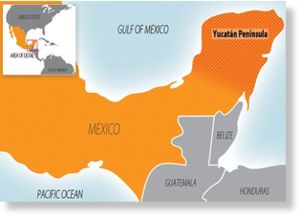 It's a discovery to challenge even the most ardent cocoa addict: Archaeologists have found traces of chocolate thought to be 2,500 years old. The choc of ages was discovered on a plate in the Yucatan peninsula, the first time chocolate residue has been found on a plate rather than a cup. The find suggests chocolate may have been used as a condiment or sauce with solid food, as well as for drinking.
Experts have long thought cacao beans and pods were mainly used in pre-Hispanic cultures as a beverage, made either by crushing the beans and mixing them with liquids or by fermenting the pulp that surrounds the beans in the pod. Such a drink was believed to have been reserved for the tribal elite.
But the discovery announced this week by Mexico's National Institute of Anthropology and History expands the conception of how chocolate may have been used in ancient Mexico. It would also suggest that there may be ancient roots for traditional dishes eaten in Mexico today, such as mole, the chocolate-based sauce often served with meats.