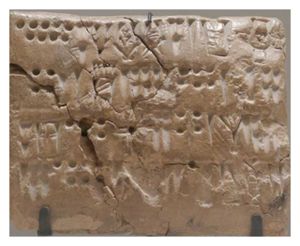 The world's oldest undeciphered writing system is close to being cracked thanks to a new technology and online crowdsourcing, Oxford University researchers have announced.
Called proto-Elamite, the writing has its roots in what is now Iran and dates from 3,200 to 3,000 B.C. So far, the 5,000-year-old writing has defied any effort to decode its symbols impressed on clay tablets.
Now a high-tech imaging device developed at the Universities of Oxford and Southampton in England might provide the necessary insight to crack the code once and for all.
Comprising a dome with 76 lights and a camera positioned at the top of the dome, the Reflectance Transformation Imaging (RTI) is able to capture extremely high quality images of ancient documents.
As the object is placed in the center of the dome, 76 photos are taken each with one of the 76 lights individually lit.
The 76 images are then joined in post-processing so that researcher can move the light across the surface of the digital image and use the difference between light and shadow to highlight never before seen details.
"The quality of the images captured is incredible. I have spent the last ten years trying to decipher the proto-Elamite writing system and, with this new technology, I think we are finally on the point of making a breakthrough," Jacob Dahl, from Oxford University's Oriental Studies Faculty, said.