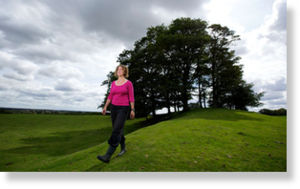 A national theatre of the north is found on summit of Studforth Hill in Aldborough
The lost amphitheatre of northern England has been found on a Yorkshire hilltop in a discovery with major implications for the study of Roman Britain.
Centuries of speculation have ended with a printout from geomagnetic scanners which reveals a great tiered bank of seats below curving hummocks in a field now frequented only by a herd of cattle.
Crowning the summit of Studforth Hill, the oval arena would have combined spectacles and entertainments with a magnificent 360-degree view, making it the equivalent of a national theatre of the north.
The find by Cambridge University archaeologists - led by a young woman who grew up locally and was told the amphitheatre legend by her grandfather - seals the importance in Roman times of the small village of Aldborough, between Harrogate and York.