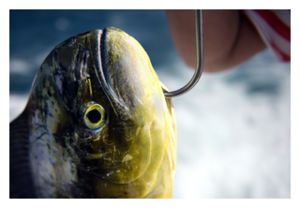 An Australian archaeologist has discovered ancient fish bones in a cave in East Timor - a small island country northeast of Australia in the Lesser Sunda Islands - that contain the ancient remains of more than 38,000 fish bones from nearly 2,900 individual fish, a sign that humans may have gone deep-sea fishing as many as 42,000 years ago.
Among the fish bones were those of tuna and shark, clearly brought to the cave - called
Jerimalai
- by human hands. And to back that up, the archaeologist also unearthed a fish hook dating to 23,000 years old.
The discovery, reported online in the journal
Science
, provides the strongest evidence yet that people were deep-sea fishing long ago. And those maritime skills may have allowed the inhabitants of this region to travel abroad and colonize other islands and continents.
Human consumption of fish dates back around 1.9 million years. Early fishers waded into lakes and streams and caught fish without the use of boats or complex tools. It wasn't until later that humans began fishing the deep seas.
The earliest known boats, found in France and the Netherlands, date back only 10,000 years, but archaeologists know that boats must have been used prior to this. Wood and other common boat-building materials do not preserve well, making it harder to find more ancient proof. But. With the colonization of Australia and nearby islands in Southeast Asia occurring at least 45,000 years ago, sea travel of at least 16 miles would have been required.