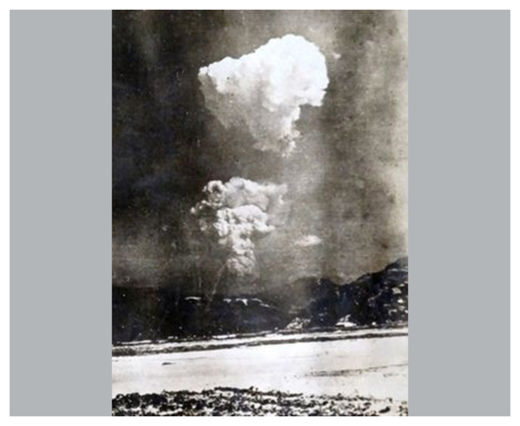 A long lost image from the Hiroshima atomic bombing has been discovered at a Japanese elementary school.
The black-and-white photograph shows the mushroom cloud over Hiroshima split into two distinctly separated parts, one on top of the other.
The rare image was found at the Honkawa Elementary School in Hiroshima city, in a collection of about 1,000 articles on the WWII atomic bombing. The material was donated by a late survivor, Yosaburo Yamasaki, in or after 1953.
According to the Japanese daily Asahi Shimbun, a memo on the back of the photo says it was shot near the town of Kaitaichi, some six miles east of ground zero, two minutes after the bomb was dropped on August 6, 1945.
Historians knew of the existence of the picture as a copy originally appeared in a Japanese-language book published in 1988.
The book reported that the photographer is "unknown" and that the image was shot "20-30 minutes" after the bombing.
"Studies by the Imperial navy and others have already discovered that the cloud separated, but the photo confirms it and is thus valuable," a curator from the Hiroshima Peace Memorial Museum told the daily Japan Times.
The best-known pictures of the bomb's immediate aftermath were taken from the air by the US military.
Codenamed "Little Boy," the five-ton bomb dropped on Hiroshima was carried by the U.S. warplane known as Enola Gay. The blast killed or injured with horrific burns at least 140,000 people.
Three days later, another mushroom cloud appeared over the city of Nagasaki. Named "Fat Man," the bomb killed another 70,000.