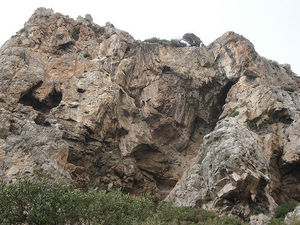 Athens - Archaeologists in the Greek island of Crete have uncovered startling evidence on Monday showing that early humans navigated across open waters thousands of years earlier than previously believed.
According to the Greek Culture Ministry, archaeological experts from Greece and the United States discovered along the southern coast of the island rough axes and other tools believed to be between 130,000 and 700,000 years old during a survey of the caves and rock shelters located in the areas of Plakias and Preveli, calling the said discovery made by the archaeologists working with the American School of Classical Studies based in Athens as "the most ancient sign of early navigation worldwide."
The tools that have been discovered were described to be simple hand tools that were made out of stone. Archaeologists found a similarity between these tools and those associated to the
Homo heidelbergensis
(also referred to as the Heidelberg Man) and
Homo erectus
, early ancestors of modern humans that lived in Africa 200,000 years ago.
"Up to now, we had no proof of Early Stone Age presence on Crete," Maria Vlazaki--Senior Ministry Archaeologist--told the
Associated Press
, referring to the conclusive evidence previously found on the island that humans settled and inhabited Crete no earlier than the Neolithic Period.