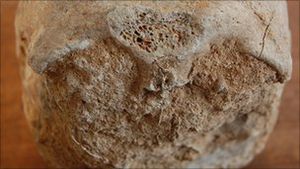 Somerset was the site of the UK's oldest open-air cemetery, the county council says.
Recent radiocarbon dating of two skulls found at a sand quarry in Greylake nature reserve near Middlezoy in 1928 revealed them to be 10,000 years old.
The council said the find was made under its Lost Islands of Somerset project by a team investigating the archaeology of the Somerset Levels.
Since their discovery, the skulls have been held at Bridgwater's Blake Museum.
The new findings show that by around 8,300 BC, hunter-gatherers were burying their dead on what was once an island amid the Levels.
All the other human remains from this early period in Britain have been found in caves such as Aveline's Hole in Somerset which is the largest Mesolithic burial ground in the UK.
Somerset County Councillor Christine Lawrence, cabinet member for community services said: "Somerset's wonderfully rich heritage plays a big part in attracting visitors. I'm delighted that this project has thrown new light on to these exciting finds."
"Amazing news"
"This was amazing news and was just the result we were hoping for," added Dr Richard Brunning, from Somerset County Council's Heritage Service who is leading the Lost Islands of Somerset Project.
"It shows that a Mesolithic hunter-gatherer group was operating from the island and burying its dead there.
"Such open-air cemeteries are extremely rare in Europe and this is the only one known from the UK."
Flint tools were also found in large numbers on the site in the 1950s suggesting that it was used as a long-term camp site.
The Lost Islands of Somerset Project team will carry out more analysis on the skulls and tools to ascertain how this ancient community lived and died.