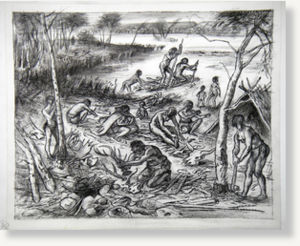 One of the most significant socioeconomic changes in the history of humanity took place around 10,000 years ago, when the Near East went from an economy based on hunting and gathering (Mesolithic) to another kind on agriculture (Neolithic). Farmers rapidly entered the Balkan Peninsula and then advanced gradually throughout the rest of Europe.
Various theories have been proposed over recent years to explain this process, and now physicists from the University of Girona (UdG) have for the first time presented a new model to explain how the Neolithic front slowed down as it moved towards the north of the continent. The study has been published in the
New Journal of Physics
.
"The model shows that the farmers' dispersal and reproduction was limited by the high density of hunter-gatherers in northern Europe", Neus Isern, a physicist at the UdG and lead author of the study, tells SINC.
By between 8,000 and 9,000 years ago, the first farmers from Asia were already cultivating land in what is now Greece, but in the areas today occupied by the United Kingdom, Denmark and Northern Germany this did not happen until around 3,000 years later. This can be seen from archaeological remains.