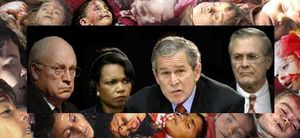 Vancouver , British Columbia -- An upcoming planned speaking engagement in Canada by former President George W. Bush is again generating a wave of protest. Bush is reportedly scheduled to speak on October 20th at a gathering in Surrey , British Columbia hosted by Surrey Mayor Diane Watts. But Lawyers Against the War (LAW) says the Canadian government must either bar Bush at the border because of his alleged involvement in torture and other war crimes and crimes against humanity, or order his arrest when he enters Canada both to ensure he is prosecuted here or elsewhere, and to prevent him from returning to safe haven from prosecution in the United States.
In an August 25
letter
to Prime Minister Stephen Harper and the Canadian Ministers of justice, immigration, public safety and foreign affairs, the group says "there is overwhelming evidence that George W. Bush ...aided and abetted and counseled the torture of non-Americans at U.S. controlled prisons outside the U.S. " (
pdf)
The 7-page letter cites evidence of complicity in torture (and other crimes) from numerous international reports and authorities, including Bush himself: "In his 2010 memoirs, (Bush) admitted to authorizing the use of interrogation techniques that constitute torture such as water boarding."