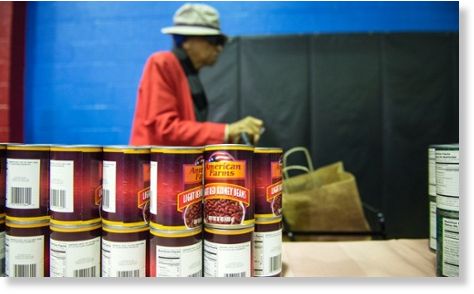 As of Friday, nearly 48 million Americans receiving food stamps are set to see their benefits reduced.
The automatic cut which is scheduled for Nov. 1, as a temporary boost from the 2009 stimulus bill expires, will reduce around $5 billion from federal food-stamp spending over the coming year.
The Supplemental Nutrition Assistance Program (SNAP) currently costs about $80 billion per year and provides food aid to 14 percent of all US households.
As of September 2012, 47.7 million Americans were receiving an average of $133 per month in food assistance. Food stamp recipients are mostly children, the elderly and disabled people.
The
Washington Post
reported that the number of Americans on food stamps could drop even further as Congress and various states consider further changes to the program.
According to the newspaper, the House and Senate will resume this week their arguments over a five-year farm bill which includes the food-stamp program.
The Senate approved a farm bill that would make changes to the food-stamp program, saving $4.5 billion over 10 years.
But the House bill would remove 3.8 million people from the food-stamp rolls over the upcoming year only and take an additional 1.8 million people per year off food stamps for the next decade.
It is not clear how many of these cuts will get passed into law nut event if Congress doesn't pass further cuts some states could act on their own to restrict eligibility.
In 2013, according to the
Post
, 44 states qualified for federal waivers that would allow more able-bodied adults to receive food stamps if unemployment in the area was particularly high. Some states are planning to stop asking for waivers.
Kansas' waiver is expected to expire at the start of October. That could affect some 20,000 residents. The Oklahoma state, Ohio and Washington are also planning to enact similar restrictions.
The CEO of the Food Bank for New York City has warned that the cuts would end in riots across the US. Margaret Purvis said that riots always begin when people cannot afford to eat food.