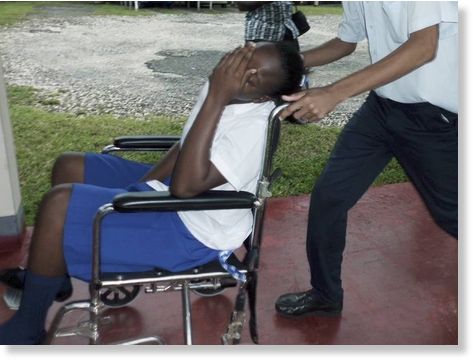 Approximately 50 students from Buff Bay High School in Portland had to seek emergency medical aid yesterday after suffering from a mysterious illness, which last night continued to baffle personnel at the town's health clinic.
Up until late yesterday afternoon, at least 20 of the approximately 50 ill students, many of whom were suffering from fainting spells and showed signs of hysteria, were still being treated at the Buff Bay Health Clinic by a team of Cuban doctors.
"
Even now, my granddaughter has not spoken
," said Naomi Fagan, grandmother of Samantha Cann, who was among the students rushed to the clinic. "
She is unable to walk and had to be assisted by a porter
, who whisked her away in a wheelchair. It is total confusion and we haven't been told what caused the dizziness and fainting spells."
The mysterious illness started about lunchtime, and affected mostly students from grade seven who were either having their lunches or were studying at the library.