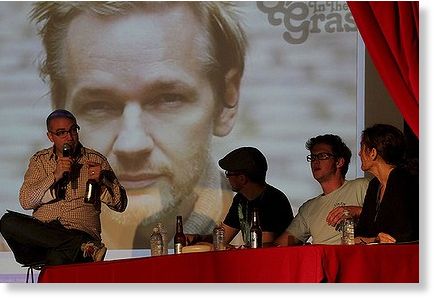 WikiLeaks founder Julian Assange delivered a rallying cry to Splendour in the Grass attendees today as his mother called on festivalgoers to pressure Australian politicians into preventing her son's extradition to the US.
Mr Assange delivered a pre-recorded video message to the Big Brother v Little Brother: Who Controls our Only Secrets? forum, which featured his mother Christine as well as his Australian lawyer as part of an unusually political addition to this year's music festival line-up.
Hosted by The Chaser's Julian Morrow, the forum went on to debate whether Mr Assange's group was the leader of a growing trend of leaking classified information on the internet or had developed into a prominent brand driven by a cult of personality.
It was Assange's appearance that stole the show, with the Australian, currently under house arrest in London, proclaiming that the current generation was "burning the mass media to the ground".