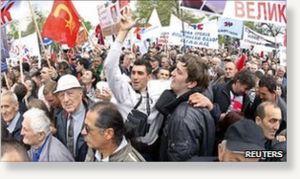 Tens of thousands of anti-government protesters have massed in Belgrade to call for early elections, amid growing anger over the economy and corruption.
Opposition leader Tomislav Nikolic told the crowd he was going on hunger strike until an election was called.
The rally comes three months after a similar protest in the capital.
President Boris Tadic has said Serbia needs stability and dismissed opposition ultimatums about election dates as "totally inappropriate".
The next election is scheduled for 2012.
But the BBC's Mark Lowen in Belgrade says the resurgent opposition, combined with news of the hunger strike, may make the call for a fresh poll hard to ignore.