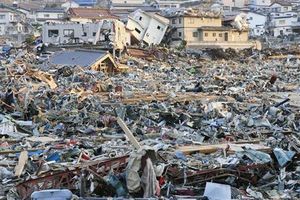 A hydrogen explosion rocked the earthquake-stricken nuclear plant in Japan where authorities have been working desperately to avert a meltdown, while media said a fresh tsunami was heading for the same coastline that was hit last week.
Japan's nuclear agency confirmed there was an explosion at the No. 3 reactor of the Daiichi plant in Fukushima, and TV images showed smoke rising from the facility, 240 km (150 miles) north of Tokyo.
Officials said they could not immediately confirm whether the blast had caused a radioactive leak.
Operators had earlier halted injection of sea water into the reactor, resulting in a rise in radiation levels and pressure. The government had warned that an explosion was possible because of the buildup of hydrogen in the building housing the reactor.