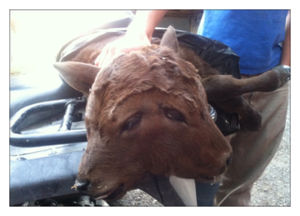 Jamieson -- Heidi Kirschbaum didn't believe the details of the phone call were real.
Or, maybe it was a joke.
But Heidi's sister-in-law, Charlan, who was down at the family farm, wasn't joking.
"It wasn't alive when we saw it," Kirschbaum said. "But it had one neck, two ears and four eyes."
Kirscbhaum told KBOI 2News that a two-headed calf was born on the family farm in Jamieson, Ore., in Malheur County on Monday. When Heidi and the rest of the family arrived in the field, the calf was already dead. The calf's mother is doing fine.
"You do a double-take and say, wait a minute, whoa," she said.
Word has spread throughout the farming community about the two-headed calf -- especially after kindergarten class. Heidi's daughter, Holly, asked if she could share the calf for show and tell.
"We brought pictures to her class -- the kids and the teacher really enjoyed it," she said.
The family isn't sure what it plans to do with the head. It's now ice cold in a freezer at the family farm.
"We know it doesn't happen very often, but it happened to us," she said.