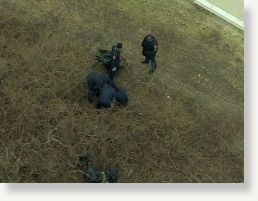 Investigators scouring dense undergrowth for victims of a suspected serial killer along a remote Long Island beach area found three more sets of remains Monday, authorities said, bringing the total number of bodies to eight.
Criminologist Casey Jordan told CBS News'
The Early Show
Tuesday that the killer or killers may have a sexual motivation.
Jordan said the police are likely dealing with a "power control killer" or "hedonistic lust killer," because the women were lured through Craigslist.
The new remains are in addition to the remains of a victim found in the area last week, about 45 miles east of New York City. That victim has not been identified, and police have not positively connected those remains to the bodies of four prostitutes found nearby in December.
Police discovered the bodies while searching for 24-year-old Shannan Gilbert, who went missing in May in the area, and are investigating whether any of the newly-discovered remains are hers.