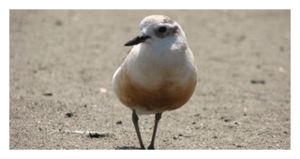 The Department of Conservation (DOC) is hoping people will come forward with with information as it investigates the shooting of more than 100 protected birds in Northland.
The birds, which included godwits, knots and endangered dotterels, were shot at remote Okato Creek in Kaipara Harbour about February 27.
Some of them were left to suffer in agony.
DOC has said any information on the shooting could be given in confidence to visitor assets and historic ranger Awhi Nathan.
A prosecution could lead to fines of up to $100,000 and a jail term of up to six months.
Mr Nathan said today that he had yet to receive any calls since the case was made public.
Police had not been called in because there was not enough information for them to act on.
Mr Nathan said the shooting appeared to involve a group of people.
"A boat load of shooters came into a secluded bay and let rip with what sounded like automatic shotguns," he said.