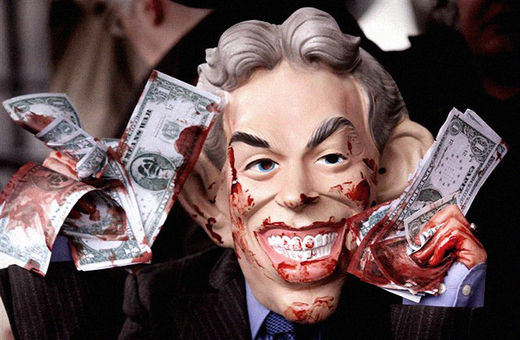 "Some people make a living, others make a killing" - an exclusive new documentary on Tony Blair which will break unexplored ground
Dear Friends,
I'm making the definitive documentary about the Blair years. Years of war and plunder, death and destruction, corruption and disillusion. Tony Blair
killed
the Labour Party as we knew it. He and George W. Bush helped kill a million people in disastrous wars and Blair is currently making a financial killing out of both.
In 2003, I was expelled from the Labour Party over my outspoken opposition to Bush and Blair's war in Iraq. I promised that until the last day of my life I would go on fighting to put Tony Blair on trial, a real trial in The Hague, for war crimes and crimes against humanity. This documentary, the mother of all documentaries, will expose Blair's crimes.
This documentary will not be another sterile chronicle of the Blair years. I witnessed his mendacity firsthand and am able to offer you the inside story. I will pull no punches in going toe to toe with those in the upper echelons of New Labour; the likes of Peter Mandelson and Alistair Campbell are all in my sights and so are the big business bankers he consults for. There is no doubt that the debates will be heated. But from that heat will come light.
I need your help to launch this film. We are trying to raise £50,000 here on this site. This target is the absolute bare minimum we need to complete the research and filming. In total, we will need more than twice that amount to purchase further archive materials, distribute and market the documentary. We are confident that a successful Kickstarter campaign will empower us to match funds from other sources.
This is an all-or-nothing platform. If we don't raise the full £50,000 in just 40 days, no money changes hands. I hope you will want to be a part of this. You can be the difference to help make history, stop Blair in his tracks, halt his profiteering, and bring him to some kind of justice. It is an ambitious project, but it is not beyond us.
Thank you,
George Galloway MP
The film will look at how Blair rose without trace to hijack the Labour Party and to fly it to destruction. At how a million people lie dead as a result of the Blair era. In Afghanistan, Iraq, Lebanon, Pakistan, and even on the streets of western capitals, like London and Madrid. At how he feathered the beds of the rich and powerful and how finally, upon leaving office, he ruthlessly exploited his Downing Street contacts and climbed into those feathered beds himself. His Faustian pact with the likes of Rupert Murdoch, the bankers and the City slickers will be laid bare.
This film will break new and unexplored ground with never before seen footage, exclusive interviews and penetrating commentary. In addition, diplomats, investigative journalists, well-known artists and activists, as well as victims of the Blair era will all participate.
A top-notch technical team and a host of dedicated volunteers are working hard to make this project happen. The film is currently in the pre-production stage and our team is carrying out research, collecting footage and securing interviews. Funds will be exclusively used for the making of this documentary. The more you donate the better our film can be. Exceeding our target would enable us to purchase further archive footage, film overseas and settle post production costs.
This film will be kickstarted by you, the people, who want to see the truth told and justice done. By pledging to fund this film you will be securing a ringside seat for the heavyweight bout of the decade, helping to expose one of the scandals of the century. Donate now and you could be recognised as one of those who helped bring about the downfall of Tony Blair.