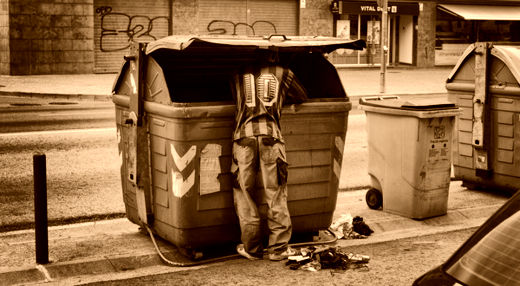 Madrid - On a recent evening, a hip-looking young woman was sorting through a stack of crates outside a fruit and vegetable store here in the working-class neighborhood of Vallecas as it shut down for the night.
At first glance, she looked as if she might be a store employee. But no. The young woman was looking through the day's trash for her next meal. Already, she had found a dozen aging potatoes she deemed edible and loaded them onto a luggage cart parked nearby.
"When you don't have enough money," she said, declining to give her name, "this is what there is."
The woman, 33, said that she had once worked at the post office but that her unemployment benefits had run out and she was living now on 400 euros a month, about $520. She was squatting with some friends in a building that still had water and electricity, while collecting "a little of everything" from the garbage after stores closed and the streets were dark and quiet.
Such survival tactics are becoming increasingly commonplace here, with an
unemployment rate over
50 percent
among young people
and more and more households having adults without jobs.
So pervasive is the problem of scavenging that
one Spanish city has resorted to installing locks on supermarket trash bins
as a public health precaution.
A report
this year by a Catholic charity, Caritas, said that it had fed nearly
one million hungry Spaniards in 2010, more than twice as many as in 2007
. That number rose again in 2011 by 65,000.
As
Spain
tries desperately to meet its budget targets, it has been forced to embark on the same path as Greece, introducing one
austerity measure
after another, cutting jobs, salaries, pensions and benefits, even as the economy continues to shrink.
Most recently,
the government raised the
value-added tax
three percentage points, to 21 percent, on most goods, and two percentage points on many food items
, making life just that much harder for those on the edge. Little relief is in sight as the country's regional governments, facing their own budget crisis, are chipping away at a range of previously free services, including school lunches for low-income families.