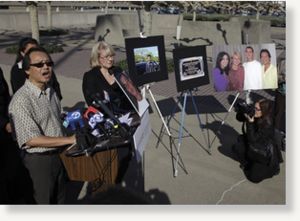 The parents of a slain college student said Thursday that former Gov. Arnold Schwarzenegger "messed with the wrong family" by reducing the prison sentence of the son of a political ally.
Fred and Kathy Santos spoke after filing a lawsuit in Sacramento County Superior Court asking a judge to restore a 16-year sentence for Esteban Nunez, the son of former Assembly Speaker Fabian Nunez.
"Arnold Schwarzenegger underestimated us," Kathy Santos said outside the courthouse. "I think he believed he could get away with this despicable commutation. He messed with the wrong family."
The younger Nunez, 21, pleaded guilty to voluntary manslaughter and two counts of assault with a deadly weapon for his involvement in the 2008 stabbing death of Luis Santos on the San Diego State University campus.
Prosecutors said Nunez and his friends were irate after being turned away from a fraternity party and were looking for revenge. After drinking alcohol, prosecutors alleged, they headed out on the street and came upon an unarmed group that included Santos, 22.
Schwarzenegger reduced Nunez's sentence to seven years the night before he left office and did not contact the family or the San Diego County district attorney's office before making the move.