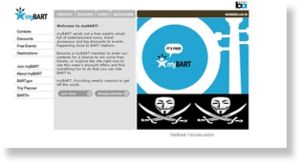 San Francisco's mass transit system prepared for renewed protests Monday, a day after hackers angry over blocked cell phone service at some transit stations broke into a website and posted company contact information for more than 2,000 customers.
The action by a hacker group known as Anonymous was the latest showdown between anarchists angry at perceived attempts to limit free speech and officials trying to control protests that grow out of social networking and have the potential to become violent.
Anonymous posted people's names, phone numbers, and street and email addresses on its own website, while also calling for a disruption of the Bay Area Rapid Transit's evening commute Monday.
BART officials said Sunday that they were working a strategy to try to block any efforts by protesters to try to disrupt the service.
"We have been planning for the protests that are said to be shaping up for tomorrow," BART spokesman Jim Allison said. He did not provide specifics, but said BART police will be staffing stations and trains and that the agency had already contacted San Francisco police.