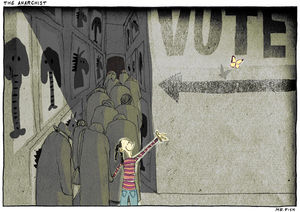 In 1936, the Nazis organized a massive get-together in Nuremberg for malleable nincompoops and called the gathering
Reichsparteitag der Ehre
, or "Rally of Honor." Watching clips from Glenn Beck's "Restoring Honor Rally" held in Washington, D.C., in August, I was reminded of how, while growing up and flipping through channels, I would occasionally come across grainy footage of Adolf Hitler in Nuremberg and see the enthusiastic crowds applauding him and waving little flags, and I'd ponder what made these people so gullible to the nationalistic lunacy and bug-eyed, fascistic tribalism they were being inundated with. Is it really possible, I wondered, to imbibe fear and hatred with so much charisma that the end result of heeding its precepts will appear gleeful and positive and finally gratifying? How, I asked myself, could such a whopping organizational feat as a Nuremberg rally even come off, with the weeks of preparation and all those opportunities for second-guessing by so many people? How, with all those workers setting up chairs and hanging banners and angling lights and arranging flowers and loading film cameras and proofreading speeches, did nobody suddenly stop doing what he or she was doing and say,
"Hey, wait a minute - this is absolutely bat-shit crazy!?"
Of course, as a political cartoonist, such grand gestures of vaulting ignorance, particularly when marked by all the mindless rage and gaudy, ostentatious celebration of a sporting event, can often make my job way too easy to be at all effective. When Glenn Beck, the headliner at the most recent, though by no means the last, honor rally (the same Glenn Beck who regularly warns his radio and television audiences of the lethal concoction that is Islamic God and Islamic country) stands up in front of the Lincoln Memorial and says that the United States has been wandering around in the dark for too long and that it is time - a civic duty, in fact! - for every American to return to a position of complete subservience to a famously intolerant Christian god who has a long history of murdering and torturing his critics both in and
after
life, the joke has already been made. The cartoon has already been drawn. In other words, when somebody takes a crap on the floor it doesn't matter how good your thesaurus is, the actual stench of the shit will always trump any artistic description of it.