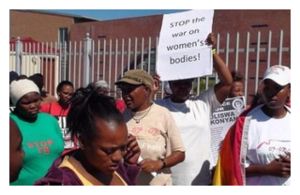 South African media reported the horrifying details of the viral video that has shocked the world: a 17-year-old, mentally disabled girl being raped by seven men in a Johannesburg township.
She screams: "You are forcing me, you are forcing me."
The 10-minute cellphone video spread like wildfire until a tabloid paper alerted police on April 17. (Disclaimer: This reporter has not watched the video or searched for it online because it is child pornography. Officials have not said how many people have seen the video. Police have arrested suspects in the case.)
This is shocking. But in South Africa, it's less shocking than you might expect.
A study
(pdf) from the Medical Research Council found that more than 1 in 4 South African men have admitted to raping a girl or woman. More than
56,000 rapes were reported
(pdf) to police, but the government group suspects that the actual incidence of
rape is 25 times that number. That's 1,400,000 people
-- roughly the population of Phoenix -- each year. By comparison, the U.S. Census Bureau said in 2012 that there were
some 81,000 rapes or attempted rapes
(pdf) in the U.S. in 2009, the last year for which the bureau gives figures -- in a country with more than six times the
population of South Africa.
More worrying, the MRC's research into gender violence stretches back years, and it doesn't show that attitudes have changed much. Back in 1998 the group
warned ominously
(pdf) that "there needs to be a change in attitudes amongst all members in the community toward the 'normality' and inevitability of male use of force in relationships involving people of all ages."
The video drew condemnation from Lulu Xingwana, South Africa's minister for women, children and people with disabilities -- but her comments seemed to focus more on the evidence than on the crime. "This despicable crime does not belong to our free and democratic society," said Xingwana in a statement. She then
reminded all South Africans
that "distributing pornographic material is a criminal offense."
But women's-rights advocates say that this is not a lone incident and that the blame traces back to South Africa's potent history of repression. Lisa Vetten, executive director of the
Tshwaranang Legal Advocacy Centre
, says that the position of women has not improved despite South Africa's post apartheid laws.