T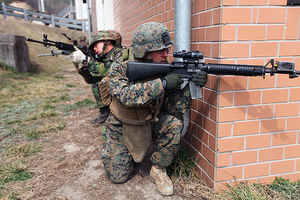 he Grand Bay Hotel was attacked! Wait, never mind, it was just a military training exercise.
No, there was no smell of napalm in the morning.
But there was the thunderous whump whump of low-flying helicopters, and even the jarring blast of explosions at the abandoned Grand Bay Hotel in Coconut Grove early Tuesday during a military training exercise that jolted many unsuspecting residents from their beds.
"It was quite a shocking experience," said Jane Muir, who was awakened around 1:45 a.m. by the sound of military choppers that later dropped rappelling soldiers onto the Grand Bay's rooftop. "It was kind of that bizarre feeling that you were surrounded by wind."
From her third-floor balcony, Muir then watched the soldiers fire off flares and smoke bombs before searching floor by floor through the darkened hotel, their paths marked by flashlights and the pop-pop-pop of gunshots. "The show of force was so overwhelming," she said.