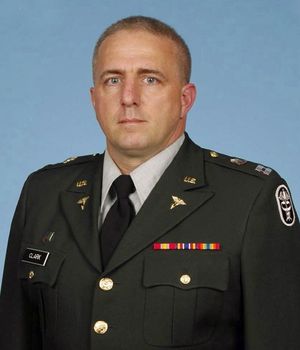 Army investigators said Monday they found no bullet wound or evidence of foul play in the death of a soldier in Afghanistan who died during a Skype video chat with his wife.
Capt. Bruce Kevin Clark collapsed while speaking to his wife on May 1 from his base in Tarin Kot, Afghanistan, southwest of Kabul.
His wife, Susan Orellana-Clark, has suggested that Clark was shot, citing a hole visible in the closet behind him that she believed was a bullet hole
.
Investigators said an initial probe showed no trauma to the body except that Clark broke his nose when he fell forward. Orellana-Clark said he didn't seem alarmed before he collapsed.
Christopher Grey, a spokesman for the Army Criminal Investigation Command, said Monday that the investigation is still under way.
"But the important thing is that there was no bullet wound, no trauma," except that Clark's nose was possibly broken when he fell on his desk, Grey said in a telephone interview.
"We can positively say that Captain Clark was not shot," Grey later said in a statement.