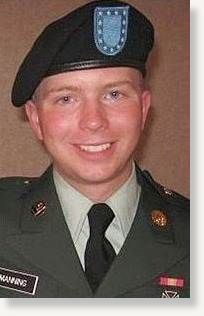 The Army private accused of passing classified documents to WikiLeaks was cleared Thursday to live alongside other inmates at a military prison, a dramatic change from his previous quarters in a brig
where he spent 23 hours a day alone in his cell.
Army Pfc. Bradley Manning passed the lengthy physical and psychiatric evaluation given to new inmates at the Fort Leavenworth prison and received final clearance just before a mid-day media tour of the facility, its commander Lt. Col. Dawn Hilton said.
Manning was transferred there last week from the Marine Corps brig in Virginia,
where he had been held for the eight months since his arrest.
At Quantico,
Manning had to surrender his clothes at night in favour of a military-issued, suicide-prevention smock.
Manning's attorney and supporters said that was unnecessary and argued his living conditions, including his isolation from other inmates, were inhumane.
Jeff Paterson, a member of the Bradley Manning Support Network, said Thursday he was "heartened" by the news that Manning's conditions were improving.