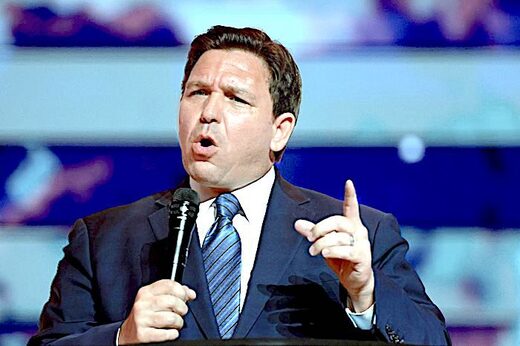 Florida gov says he will not be involved in 'manufactured circus' surrounding potential Trump charges...
Florida Gov. Ron DeSantis slammed Manhattan District Attorney
Alvin Bragg
on Monday as a "Soros-funded prosecutor" who is "pursuing a political agenda and weaponizing the office"
as he reportedly considers indicting former President Donald Trump on charges related to alleged hush-money payments made to adult film star Stormy Daniels in 2016.
When asked about the potential indictment of the former president, DeSantis said:
"I've seen rumors swirl, I have not seen any facts yet, and so I don't know what's going to happen. But I do know this. The Manhattan district attorney is a Soros-funded prosecutor, and so he, like other Soros-funded prosecutors, they weaponize their office to impose a political agenda on society at the expense of the rule of law and public safety."
The potential charges against Trump stem from the $130,000 hush-money payment that then-Trump lawyer Michael Cohen made to Daniels, whose legal name is Stephanie Clifford, in the weeks leading up to the 2016 presidential election in exchange for her silence about an alleged sexual encounter with Trump in 2006.
Federal prosecutors in the U.S. attorneys office for the Southern District of New York
opted out of charging Trump related to the Stormy Daniels payment in 2019,
even as Cohen implicated him as part of his plea deal.
The Federal Election Commission also tossed its investigation into the matter in 2021.