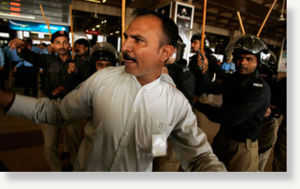 As Hosni Mubarak reluctantly retired last Friday night, another revolt was reaching its climax in Pakistan. For four days the workers of Pakistan International Airlines (PIA), the national carrier, had been on strike. Some 25,000 passengers were stranded, including me.
I was stuck in Quetta, a tense, paranoid city near the Afghan border where the security forces are engaged in a ruthless cat-and-mouse game with nationalist rebels; it is also a supposed refuge for the one-eyed Taliban leader Mullah Omar. As the skies emptied of planes, guests from my hotel fled Quetta by car, crossing the sprawling deserts, or chancing the rickety 22-hour train ride to Karachi. I stayed put.
On TV the picture flipped from ecstatic crowds surging through Tahrir Square in Cairo, to Pakistani riot police baton-charging PIA workers at Karachi airport. The strike was over planned reforms. PIA is a bloated, sick elephant. It has 400 employees per aircraft - about three times the norm - and last year it asked the government to pay $1.7bn (£1.06bn) in debt. But the unions objected to plans to rationalise the workforce, and demanded that managing director Aijaz Haroon resign. And so on Friday night, under immense pressure, he went, resigning at the same time as Mubarak fell in Egypt.