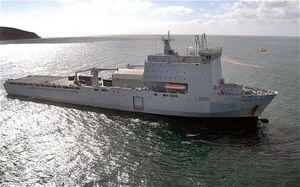 The Royal Navy's Falkland Islands protection ship has been turned away from docking in Rio de Janeiro in an indication that Brazil's new government could back Argentine claims to the islands.
Despite continuing tensions with Argentina over the Falkland Islands, the Navy had until now enjoyed cordial relations with its Brazilian equivalent.
But last week, within days of the former left-wing guerilla Dilma Rousseff succeeding Luiz Inacio Lula da Silva as Brazil's president, HMS
Clyde
was refused permission to stop in Rio.
Miss Rousseff is due to visit Argentina at the end of this month, in her first international trip, with closer trade relations between South American countries due to be discussed.
The decision to block the Royal Navy ship from docking "satisfied" the government of Cristina Fernandez de Kirchner in Buenos Aires, according to the Argentine newspaper
Clarin
.
HMS
Clyde
was forced to re-route and instead dock later in Chile, where the Royal Navy still enjoys good relations.
It is the first time that Brazil has refused permission for a British ship to dock in such circumstances and the decision appears to be a clear indication that Miss Rousseff wanted to send a message to Britain and Argentina over the Falklands.