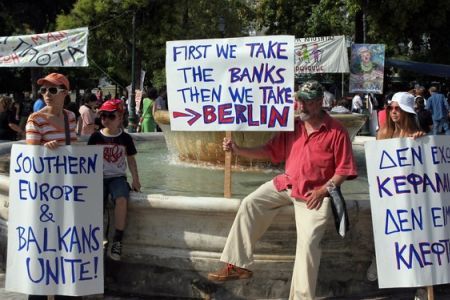 Thousands of people have once again flocked the streets in Athens, protesting for a fifth day against their government's austerity policies, inspired by the M-15 movement in Spain.
Police estimated some 30,000 protesters to have gathered at the central Syntagma Square in the Greek capital of Athens, in the largest set of anti-government demonstrations since Wednesday.
Sunday's demonstration however, was inspired by an online campaign on various social network sites, which called for anti-government demonstrations across all of Europe, modeled by the Spanish M-15 movement, AFP reported.
Further, the online campaign called on the demonstrators to demand "real democracy."
Banners that read "poverty is the greatest abuse" were used in the demonstrations in front of the parliament building in Athens.
Other groups of protesters were beating empty pots while chanting "thieves".