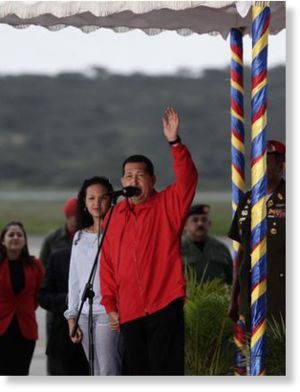 Venezuelan President Hugo Chavez left home Saturday for Cuba to begin chemotherapy, vowing to win his fight against cancer and calling for his political allies to stay united in his absence.
Before boarding his plane at Caracas' international airport, Chavez said: "It's not time to die. It's time to live."
He stood alongside one of his daughters, Rosa, on the runway while the national anthem played and soldiers stood at attention.
"I'm saying good-bye for some days," Chavez said. He has not said how long he expects to stay in Havana.
"Tomorrow I begin chemotherapy treatment, and we're going to give it everything we've got," Chavez said in a televised speech earlier at the presidential palace. He said the treatment would ensure cancer cells have not reappeared since he underwent surgery last month to remove a tumor.
After thorough medical checks, "no malignant cell has been detected in any other part of my body," Chavez said to the applause of aides and allies at the presidential palace. He added, "There is always the risk of some cells escaping or tending to reproduce, and therefore there's a need to attack hard through chemotherapy."