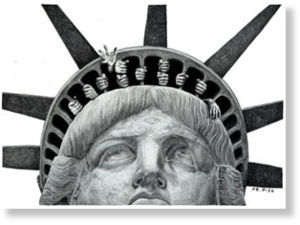 Dr. Silvia Quintela was "disappeared" by the death squads in Argentina in 1977 when she was four months pregnant with her first child. She reportedly was kept alive at a military base until she gave birth to her son and then, like other victims of the military junta, most probably was drugged, stripped naked, chained to other unconscious victims and piled onto a cargo plane that was part of the "death flights" that disposed of the estimated 20,000 disappeared. The military planes with their inert human cargo would fly over the Atlantic at night and the chained bodies would be pushed out the door into the ocean. Quintela, who had worked as a doctor in the city's slums, was 28 when she was murdered.
A military doctor, Maj. Norberto Atilio Bianco, who was extradited Friday from Paraguay to Argentina for baby trafficking, is alleged to have seized Quintela's infant son along with dozens, perhaps hundreds, of other babies. The children were handed to military families for adoption. Bianco, who was the head of the clandestine maternity unit that functioned during the Dirty War in the military hospital of Campo de Mayo, was reported by eyewitnesses to have personally carried the babies out of the military hospital. He also kept one of the infants. Argentina on Thursday convicted retired Gen. Hector Gamen and former Col. Hugo Pascarelli of committing crimes against humanity at the "El Vesubio" prison, where 2,500 people were tortured in 1976-1978. They were sentenced to life in prison. Since revoking an amnesty law in 2005 designed to protect the military, Argentina has prosecuted 807 for crimes against humanity, although only 212 people have been sentenced. It has been, for those of us who lived in Argentina during the military dictatorship, a painfully slow march toward justice.
Most of the disappeared in Argentina were not armed radicals but labor leaders, community organizers, leftist intellectuals, student activists and those who happened to be in the wrong spot at the wrong time. Few had any connection with armed campaigns of resistance. Indeed, by the time of the 1976 Argentine coup, the armed guerrilla groups, such as the
Montoneros
, had largely been wiped out. These radical groups, like al-Qaida in its campaign against the United States, never posed an existential threat to the regime, but the national drive against terror in both Argentina and the United States became an excuse to subvert the legal system, instill fear and passivity in the populace, and form a vast underground prison system populated with torturers and interrogators, as well as government officials and lawyers who operated beyond the rule of law.
Torture, prolonged detention without trial, sexual humiliation, rape, disappearance, extortion, looting, random murder and abuse have become, as in Argentina during the Dirty War, part of our own subterranean world of detention sites and torture centers.