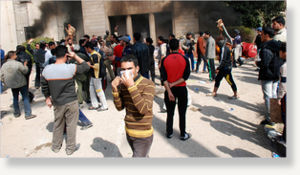 Baghdad - About 2,000 demonstrators attacked government offices in a southern Iraqi province, ripping up pavement stones to hurl at a regional council headquarters in a protest over shoddy public services that left dozens of people injured, officials said.
The demonstration was among the most dramatic since Iraqis began venting their anger about dysfunctional government at all levels in relatively small protests across the country - an echo of the tumult happening across the Arab world. Unlike protesters in other countries demanding democracy or regime change, however, demonstrators in Iraq have focused on unemployment, corruption and a lack of electricity.
The top medical official in Wasit province, Diaa al-Aboudi, said 55 people were injured - including three critically - in the protests in the city of Kut, 100 miles (160 kilometers) southeast of Baghdad. He said some of them were shot by police while others were hit by stones or suffered burns.