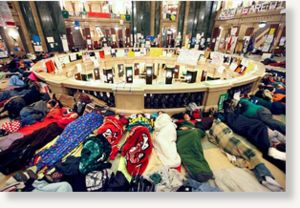 An Indiana state official has found himself in the middle of his own labor controversy for tweeting that riot police in neighboring Wisconsin should "use live ammunition" to clear out pro-union demonstrators.
The Indiana Attorney General's Office said Wednesday it is reviewing statements Jeffrey Cox, a deputy attorney general, purportedly made in tweets and blog posts, including one in which he said he advocated "deadly force" against "thugs" who threatened state elected officials in Wisconsin.
The tweets in question were made in an exchange with Adam Weinstein, a copy editor at
Mother Jones
who has been writing about the worker protests at the Wisconsin Capitol. Wisconsin workers and their supporters have been demonstrating for well over a week against Republican Gov. Scott Walker's plan to strip public sector workers of nearly all their bargaining rights. Walker says the legislation is needed to help solve Wisconsin's looming budget deficit.