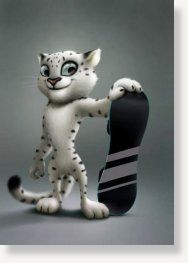 Allegations of plagiarism, high-level political meddling and sheer poor taste on Sunday marred Russia's choice of three furry mascots to represent the 2014 Winter Olympic Games in Sochi.
Russians chose three mascots -- a cute-looking snow leopard, polar bear and hare -- by popular vote in a seemingly innocent television show late Saturday that aimed to choose a people's mascot.
Eyebrows were first raised when the initial favourite to win the most votes -- a portrayal of Russian Father Christmas Ded Moroz -- was rather undemocratically ditched from the competition by the organisers.
Then it just so happened that the mascot which strongman Prime Minister Vladimir Putin had declared his favourite -- the "strong, fast and beautiful" snow leopard -- polled easily the most votes.
Prominent Russian political analyst Dmitry Oreshkin told Moscow Echo radio that it was possible some none too cuddly tricks through a rigging of the telephone system had been used to engineer the desired result.
"Just after Vladimir Putin showed his sympathy for the leopard, its votes climbed sharply," he said.
The snow leopard, who somewhat implausibly moves around on a snowboard, was nowhere to be seen in the initial ratings which were led by the unfortunate Ded Moroz.