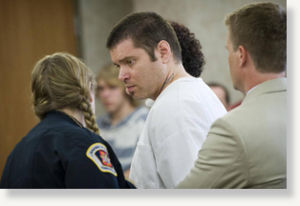 A Springville man accused of brutally raping a young woman and leaving her for dead near the Provo River Trail plead guilty Wednesday.
Shawn Leonard, 34, plead guilty to attempted aggravated murder, aggravated robbery, and two counts of aggravated kidnapping. In exchange for his plea, a charge of aggravated sexual assault was dismissed. All charges are first-degree felonies.
Last June, Leonard walked away from his jail work-release program.
On June 9, 2010, Leonard grabbed a 19-year-old woman walking along the Provo River Trail, pulled her off the trail into some bushes, strangled her and smashed her face with a rock and cement cinder block. When the victim came to, she found her pants and underwear around her ankles. She had to crawl back to the trail to get help.