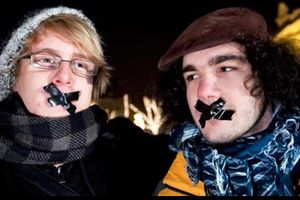 Thousands of people protested against Hungary's controversial new media law on Friday, demanding the legislation -- which has come under widespread fire internationally -- be withdrawn.
The rally, organised via online social networks and blogs, was the second such protest to be held in front of the Hungarian parliament in three weeks,
Many of the demontrators had their mouths taped over in protest against what they see as restrictions on media freedom.
Budapest has come under fire from media and rights groups, as well as European governments, for the legislation, which came into force on January 1, just as Hungary took over the presidency of the European Union.
Under the legislation, a new authority -- headed by a close ally of Prime Minister Viktor Orban -- has the right to impose major fines on media outlets and force journalists to reveal sources on issues related to national security.
Orban and his centre-right government has rejected the criticism, insisting the law conforms to European norms.