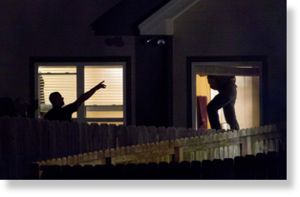 Montgomery, Alabama - Authorities searching for a man charged with fatally shooting three people near Auburn University swarmed a house Monday where they believe he's hiding, firing tear gas and sending a tactical team on forays inside.
Authorities arrived in the late afternoon, and investigators were still on the scene after midnight without bringing someone out of the house. Montgomery Mayor Todd Strange said they were going to continue to scour the attic, air conditioning ducts and "every crevice" of the house until they were satisfied. Still, by early Tuesday morning an Associated Press photographer on the scene saw much of the activity diminish while investigators stood guard outside.
Investigators said thermal imaging and other technology indicated a person was in the attic area of the house and that they'd heard coughing and movement. But after midnight, they acknowledged that they hadn't heard those noises for several hours. Strange said the next briefing was likely to come after daylight Tuesday.
The tactical team had searched the lower portions of the house and made deliberate moves into the attic where suspect Desmonte Leonard was believed to be hiding, said Montgomery Public Safety Director Chris Murphy. He declined to give a timetable for them to bring someone out.