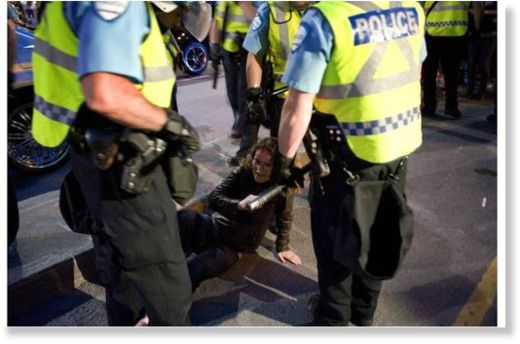 Canada, Montreal - Organizers of this weekend's Grand Prix festivities in downtown Montreal saw their worst nightmare play out on Saturday night as protesters and police clashed for two hours along one of the city's busiest thoroughfares, trapping thousands of revelers in the middle of recurring episodes of chaos.
Police reported a total of 28 arrests.
The night began peacefully around 9 p.m. as a group of about 600 protesters set out from Émilie Gamelin Park near the Berri-UQÀM métro station and made their way west, walking at a brisk pace until they ran into a line of riot police that forced them to turn south. A game of cat and mouse ensued, with officers from both the Sûreté du Québec and the Montreal police force continually blocking access west and pushing the demonstrators further and further south.
At 9:45 p.m., however, the crowd finally managing to dart up toward Ste. Catherine St. W. and into the heart of the Grand Prix party, which at that point was in full swing.
Within minutes, all semblance of order along the already bustling street appeared to collapse.
Traffic ground to a halt and the crowds - party-goers and protesters alike - flooded into the roadway.