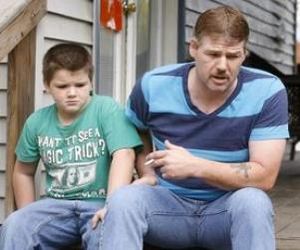 William Bailey was sentenced to one month in jail after he was recorded (video below) with his nine-year-old son Joseph mocking 10-year-old Hope Holcomb, who has cerebral palsy.
Every day after school at the bus stop, William and Joseph mocked the disabled girl, who repeatedly ask them to stop, reports the
Daily Mail
.
The girl's grandmother videotaped William and Joseph hobbling to the school bus in Pike Township, Ohio, and gave the video to police.
William plead no contest to reduced misdemeanor charges of disorderly conduct and aggravated menacing.
Tricia Knight, Hope's mother, told Fox News: "It started last year we had trouble on the bus, she was miserable she didn't want to ride the bus, cried every morning. He treats her like crap, and most recently the dad got involved. We just want the bullying and the ridiculous behavior from the kids and the adults to stop."