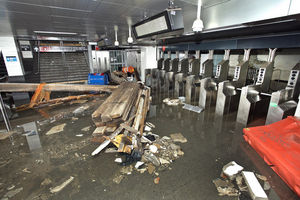 In March 2009, Elliot Sander stood in Lower
Manhattan
outside South Ferry, New York's newest subway station. Addressing a crowd, the head of the
Metropolitan Transportation Authority
hailed it as the first major transit project to open downtown since the Sept. 11 terrorist attacks.
"This artistically beautiful and highly functional station is a tangible reminder that when the MTA is provided with adequate capital funding, we build monumental works that will benefit generations of
New Yorkers
for many decades to come," Sander
said
that day.
Three-and-a-half years later, the station lies in ruins. A tidal surge from
Hurricane Sandy
Oct. 29 turned it into what current MTA Chairman Joseph Lhota called a "large fish tank." Dispatch equipment was destroyed, tiles ripped from the wall and surfaces coated with East River muck. The state agency pegs the rebuilding cost at $600 million, making it one of the most expensive items on its $5 billion damage list. The price tag doesn't include fortifying against future flooding.
What to do about South Ferry, eight stories underground and only 400 feet (122 meters) from the river, is at the center of a debate over the prudence of rebuilding in a flood zone. For some mass-transit advocates, the destruction shows the importance of investing in new flood protection now in order to save money down the road. Others question if the MTA, the biggest U.S. transit agency, should rebuild at all.