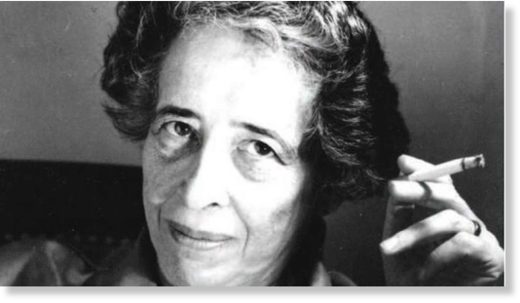 Upon the Nazis' rise to power, Hannah Arendt, a Jewish woman who would go on to become a considerable 20
th
century philosopher, had to flee with her family from her native Germany.
Once the war was over and some prominent Nazis were brought to justice, Arendt attended the trial in Jerusalem of Adolph Eichmann, the architect of the Holocaust.
The experience left an indelible impression upon her, one that would shape the trajectory of her philosophical thinking. What she observed was that, much to her surprise, Eichmann wasn't the incarnation of evil that she expected to encounter.
His actions
were monstrous, yes; but
he
was remarkably ordinary or "
banal,"
to use Arendt's term of choice.
What struck Arendt was Eichmann's "
curious, but authentic, inability to think."
"However monstrous the deeds were, the doer was neither monstrous nor demonic, and the only specific characteristic one could detect in his past as well as in his behavior during the trial and the preceding police examination was something entirely negative: it was not stupidity but a curious, quite authentic inability to think."